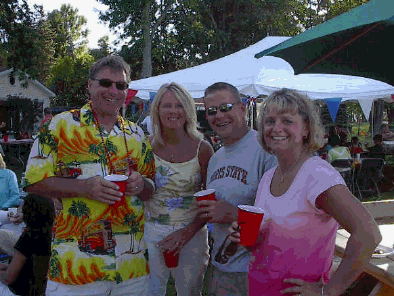 Paradise is proud to be a member of the Michigan Festival and Events Association.

Paradise will energize your event audibly and visually!! We have found festival crowds very receptive to our "all age" mix of music ranging from Oldies, Classic Rock, Motown, Trop-Rock (Jimmy Buffett), and Country!! We have enough material for hours of entertainment in each category. We will have them singing along, dancing, and at the very least tapping their feet profusely! We provide lighted palm trees, leis for the dancers, and even beachballs on occasion! Paradise guarantees a great time!!

We also offer three tribute shows -

"Jimmy Buffett Tribute Show" featuring The Leaky Tiki's

"Blues Brother's Tribute Show" featuring The Soul Men

@

http://bookastar.com/Add_On_Blues_Brothers


Video Snipit

- https://www.youtube.com/watch?v=FGcr_W64I8o

"Elvis Tribute Show" featuring Tony Poma see our video @ http://www.youtube.com/watch?v=lpkStkJCc-k

Just a few of our past gigs -

See our schedule page for a more complete list...

Howell Summer Concert Series

Detroit Gold Cup Races Concert

Brighton Mill Pond Gazebo Concert - Testimonial -

Text message from Denny Dimoff 😁




"Thank you for the GREAT concert last night. You guy's are the best!"




So I guess we passed the audition! Nice work all!!

Ann Arbor Labor Day Concert

Walled Lake Beach Fest Concert

East Tawas Summer Concerts

Odawa Casino Concert

Detroit Princess Riverboat Margaritaville Cruise Show

Melon Festival Concert

Lake Odessa Summer Fest Concert

Lansing Summer Concert Series

Charlevoix Venetian Festival

South Lyon Summer Concert Series

Wilson Marine Events - " "

Thank you Ron!!

You guys were great J I will keep your info for future events for sure!

Tami Hoak
Business Development & Purchasing
Wilson Marine

and many more....

MORE TESTIMONIES AVAILABLE...

Let us "energize" your event!